The Inaugural Dere Street Invitational Golf day!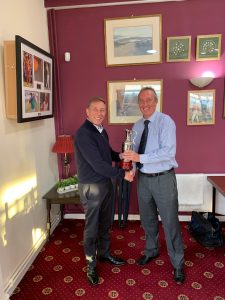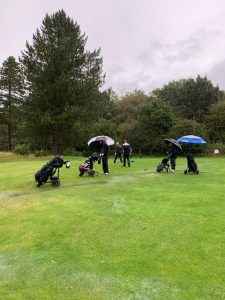 Chambers is delighted to report that our inaugural Invitational Golf Day was held on Friday 27th September 2019 at the Bishop Auckland Golf Club.
Despite the deluge of rain, which meant that only 9 holes were possible, it appeared that everyone enjoyed the day!
Pictured left is the winner, Stuart Keith being presented with the trophy by the Head of our Criminal Team and Captain of Bishop Auckland, Tony Davis.
Also pictured are some very soggy golfers!
The list of prize winners is as follows:
Stuart Keith (overall individual winner)
Craig Mead (runner up)
Michael Cahill (3rd place)
Brian Copley (4th place)
Phil White (nearest the pin)
The longest drive would have been on the 11th hole but nobody braved the elements that far into the round!
Our overall winning team comprised Craig Mead and Nick Ayres and the team runners up were Claire Rolston/Phil White/Michael Bowerman and Stuart Keith.
May we extend a special thanks to all our guests who braved the inclement weather to attend and to Bishop Auckland Golf Club who made the day run smoothly and welcomed us with open arms.
We look forward to next year when the event will be held again earlier in the year and hopefully with better weather.