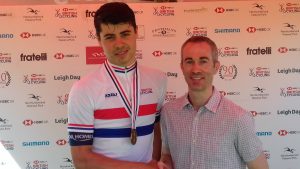 The national road cycling and time trial championships took place in Northumberland last weekend with a little assistance from Dere Street Barristers' Jamie Johnston. The event, shown on ITV 4 on Sunday, included household names Mark Cavendish, Dame Sarah Storey and Geraint Thomas competing for national titles in road and time trial disciplines.
Jamie acted in a pro bono capacity advising the race organiser on contractual issues. British Cycling, the national governing body for cycling, delegate the organisation of national championships to local organisers. Northumberland cycling stalwart Peter Harrison organised the 2018 championships as part of the annual Cyclone event, which runs on a not for profit basis. Jamie advised Peter and negotiated with British Cycling to ensure the contracts for hosting the event were agreed.
Jamie remarked "It has been a great opportunity to use my legal skills in combination with the sporting knowledge I have gained over years of involvement in coaching, playing and sports administration. I plan to continue using these Sports Law skills within my legal practice."
The event, which took place over four days, was blessed with exceptional weather. The races took place without any hitches and were enjoyed by thousands of spectators.
Jamie Johnston is a barrister at Dere Street Barristers working in civil, commercial and family law. Before coming to the Bar he established a franchising company working in the sports and fitness sector. He has also worked in sports development, competed in two sports at national level and coached international athletes.