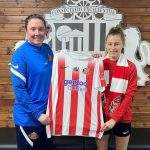 Katy is 16 years old and has been playing football for 10 years.
She has always played on the wing until recently when she has been playing more of a forward role and is now top goal scorer for the region currently on 35 goals for this season.
She started off at Felling Magpies boys then went onto play for Leam Rangers girls and Newcastle Foundation before being signed for Sunderland RTC, where she has been for the past 8 years, this being her final year.  She has played for Sunderland District and Durham County and has also recently been playing up in an under 19's league for Sunderland Scholars.
Katy was signed for Sunderland ladies on 25th January having attended a few training sessions prior to that date.
Any criminal practitioners will probably know Katy's mum Andrea who is one of our Criminal Clerks.
Dere Street Barristers will be sponsoring Katy until the end of the 2022-20223 season and we wish her all the best. Social media coverage of the sponsorship can be found at #SAFCLadies