It is with profound sadness and shock that we learnt that Matthew Collins died at the weekend. He was only 34 years' old.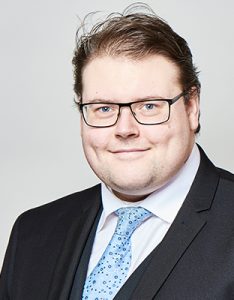 Matthew attended Warwick School on an academic scholarship. After gaining a First Class degree in English at the University of York he was called to the Bar in 2010 (Gray's Inn). He worked as an Assistant Case Review Manager at the Criminal Cases Review Commission before embarking on a pupillage at Dere Street under the supervision of David Lamb. 
Matthew quickly established himself in tenancy and his keen intellect enabled him to work successfully across disciplines: he prosecuted and defended in the Crown Court, particularly at York where he was held in high esteem by The Recorder, HHJ Morris, and in affection by the court staff; he also enjoyed servicing a significant civil, chancery and employment practice. By his energy and commitment, he gained the trust of instructing solicitors and the gratitude of their clients. 
Unfortunately, Matthew was not blessed with good health: sometimes it was a real struggle for him to carry on working, but he was determined to do so and for the best of reasons. He eloquently expressed his true sense of vocation in an email he sent to me last summer,   
"As I've always said – the only thing I want to do with my life is be a barrister … there are always people with worse problems and it does me good to help them."  
All Matthew's friends and colleagues, in Chambers and on Circuit, will mourn the premature death of a good and gentle man, and send their condolences to his family for the loss of a kind son of whom they can be very proud.  
John Elvidge QC